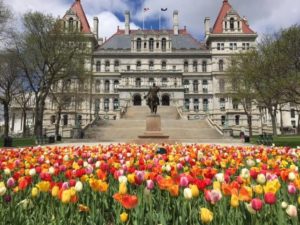 Democratic State Senate Candidates from districts within NY 19th CD
41st Senate District
Karen Smythe: karen4nysenate.com

Facebook   Twitter
Karen Smythe was born and raised in Poughkeepsie. A former marketing executive, she became the fourth-generation to run her family's construction business, C.B. Strain & Son. Karen understands that we need more middle class jobs that pay a living wage. C.B. Strain supported hundreds of good jobs locally, and as the company prospered, so did her workers, contractors, and suppliers.
Committed to strengthening the Hudson Valley, Karen has put her skills to work on the Board of the Bardavon Theater, the Mid-Hudson Children's Museum and as a trustee of Vassar College. She is proud to have been a Sunday school teacher and a soccer coach in LaGrange.
Together with Nevill, her husband of 26 years, they make giving back and improving our community a significant part of their lives. Karen will work with all sides to grow the Hudson Valley economy and ensure future generations are able to remain and raise their families here.
42nd Senate District
Pramilla Malick: Pramilla.com
Pramilla Malick is not your typical politician. Mother of four and resident of Orange County, she is tired of watching politicians succumb to corruption. Pramilla has led campaigns for community rights against state and corporate seizure of private property and local natural resources.
Pramilla has pledged to focus her attention on several major issues in the 42nd district: protecting our environment, transforming our energy infrastructure to renewable energy, transitioning our economy to support "green" job creation, education, public health, safety and welfare.
Jen Metzger JenMetzger.com
As a mother, municipal official, and environmental advocate, Jen Metzger understands first-hand the challenges faced by families in our rural communities. And she's done waiting around for our state senators to do their jobs.
Jen has served more than a decade in local government in Rosendale, where she and her husband, John, are raising three sons. She also directs the non-profit Citizens for Local Power, an organization working to transform energy policy and help communities transition to more affordable, locally-based clean energy. Jen has worked to bring down utility costs, helped local governments save energy and taxpayer dollars, and organized dozens of town and city councils across the political spectrum to stop new crude oil pipelines from endangering our communities.
Jen knows that fully funded schools, healthcare for all, and a clean energy economy that creates good local jobs will remain out of reach unless our state representatives are willing to fix New York's broken tax system and pass legislation that helps working families. Our pay-to-play state legislators have failed us, and it's time to replace them with representatives who will get the job done.
43rd Senate District
Aaron Gladd  aarongladd.com
Aaron Gladd is a proud and life-long Upstate New Yorker who has devoted his life to public service – putting neighbors and nation first. As a father, husband, combat veteran and experienced public servant, he understands what keeps us up at night. And today he's standing up for our communities, families, veterans, farmers and small business owners alike. His passion for empowering New Yorkers, compounded by his authentic and common-sense approach to problem-solving, means he isn't afraid to stand up for what's right. It's what he's done his whole life.
Aaron grew up poor, but through hard work and perseverance, he became the first member of his family to go to college, earning a BA and MPA at SUNY Albany. After graduating, he worked in the State Legislature and in 2011 he joined the US Army where he served as a Platoon Leader in the 1st Cavalry Division, including a combat tour to Afghanistan. After four years of service, Aaron moved back home to raise a family and joined the Governor's office, where he served as the Deputy Director of Policy, leaving that position to run as a full-time candidate for State Senate. Aaron has deep roots in his district, a commitment to public service at home and abroad, and a track record of implementing policy that impacts working and middle-class families.
46th Senate District
Pat Strong votepatstrong.com
Pat Strong is a small business owner and parent who has spent the last 15 years helping homeowners, businesses and local governments save money by saving energy. She's a business leader who has worked as a volunteer to demonstrate the power of the arts as an economic driver in upstate New York. Pat is the Democratic challenger to Sen. George Amedore in the 46th State Senate District.
Pat has made Ulster County her home since 1983. After a decade as a newspaper reporter and editor in Kingston and Poughkeepsie, Pat began working as a consultant to the U.S. Department of Energy in 1998, charged with supporting a group of businesses that were early proponents of solar, wind and energy efficiency in K-12 schools and universities.  In 2003, she began working as a contractor to the New York State Energy Research and Development Authority (NYSERDA), helping upstate homeowners, local governments and businesses access resources to make their buildings more energy efficient and more affordable.
Currently Pat heads a team of professionals who are funded by NYSERDA to provide technical assistance to cities, towns and villages that are converting to LED street lights. She also produces webinars, workshops and a newsletter for local governments interested in and working with NYSERDA's Clean Energy Communities program.
51st Senate District
Joyce St. George stgeorgeforsenate.com
After a career in law enforcement in New York City, where she fought corruption and trained others in crisis and conflict management, Joyce St. George moved to the Catskills region of upstate New York, where she has lived for the last 30 years. She now works as an activist to fight corruption and help the poor and disenfranchised with a variety of local community programs, including The Community Pantry, a food pantry in the town of Middletown that serves about 500 local families.